When you hear the words "digital nomad" you'll instantly think of Thailand, Chiang Mai to be exact or recently, Bali. You never think of Hong Kong. In fact a lot of people have this misconception of Hong Kong being too expensive for most digital nomads to enjoy. So today, I'm going to bust this myth once and for all and hope more digital nomads come to Hong Kong for a visit.
Hong Kong is pretty much where I'm based at for most of the year if I'm not somewhere else. I always fly back after a trip and consider it home.
It gets a bit of a bad reputation for being this hyper capitalistic city that never sleeps, and in some sense it's 100% true. However, there's always more than one side to a story, and Hong Kong definitely has many more sides to it than the usual stereotypes of being expensive, cramped and stressful.
You're not going to find most of the information I share here anywhere else, since this is really local information. Not even some expats living in Hong Kong for several years will know this.
Accommodation 
Hong Kong is famous for having the most expensive real estate in the world. Yes that's right, we beat New York and San Fransisco. And it's this very dramatic attention grabbing statistic that makes a lot of people stay clear of Hong Kong. I'm not saying Hong Kong isn't expensive.
It is.
Oh my gawd it's depressingly expensive. (Proceeds to ugly cry over my future real estate purchasing goals)
But you're not planning on living in Hong Kong for good, so you have a lot more options in terms of where to rest your head at night. Here are some options:
CO-LIVING isn't anything new for most big cities in the world, but for Hong Kong it's pretty new. One famous co-living space located in the heart of Kowloon; Bibliotheque is one of the more affordable ones that's government approved with prices starting at $4,000+ HKD a month. Another co-living complex from the same company; SynBOX is in a different location and has rooms from $3,000+ HKD a month. All the rooms are shared rooms of 2 – 5 people and the fees include, water, high-speed WIFI, cleaning and management fees. Over 40% of the space is used for shared living areas with a kickass rooftop garden and other communal areas.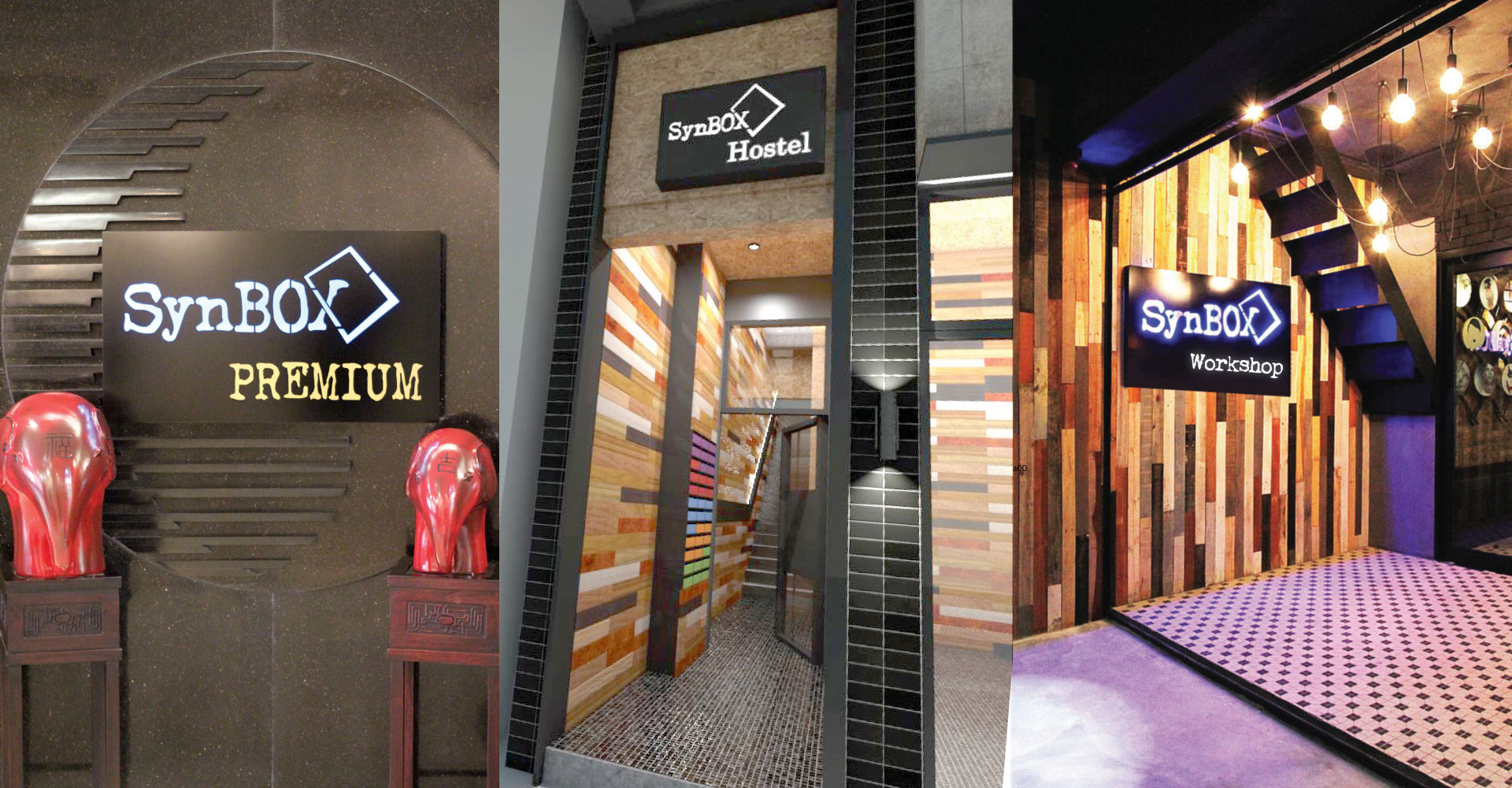 SynBOX is pretty unique, because it also has a co-working space in the same building so the whole building ends up being a big community of creative hustlers. They also have SynBOX Premium, that consists of private office rooms for rental. It's a pretty good set-up for any digital nomad that needs to get some work done during the day before exploring the city at night or whenever.
But these are pretty commercialised options, which means there are cheaper options available if you know where to look. Hong Kong Youth Hostel Association is a traditional hostel, with large shared rooms of 4 – 8 beds. The rooms are affordable and the locations are well connected. Tip: book early so you won't get a nasty surprise.
FLAT SHARE is a common option for a lot of Hong Kong singles that don't want to fork out a large sum of their salary to a landlord. Go on the many flatmate finding websites and you'll find a bunch of flat shares in every district of Hong Kong. Many will be looking for at least 6 months, but there are those that don't mind short-term sub-renting. The usual costs for a flat share will heavily depend on your location and the place. My general advice would be to avoid HK island districts as they are the most expensive.
Some websites to checkout are:
Take note that the price listed for flat shares don't include the utilise and management fees. (Not all flats will have management fees, but most of them will if there is 24/7 security)
THE GREY AREAS OF HOUSING are thriving in Hong Kong for obvious reasons. The following aren't legally recognised by the government, but are common housing solutions used by locals. One of these options are sub-divided rooms in industrial buildings. A lot of industrial buildings in Hong Kong are left vacant after the industrial boom of the 60's and so many people have taken the cheaper rents to create alternative spaces.
You'll find cafes, workshops, entire wholesale shopping malls and startup offices. The list is endless for what you can find above the ground floor of Hong Kong's concrete jungle. And cheap rooms is just one of these little wonders.
Many of these rooms won't have a private bathroom or kitchen area because the buildings were created for industrial use. So usually there would be a shared bathroom, cooking wouldn't be an option and laundry is simply solved by the many dry cleaners in the city. They can be crazy cheap because of this, but do use these options at your own risk. Most of these options do not follow government regulated housing guidelines of safety. A common danger is the risk of fire and the lack of proper fire safety facilities in the building for such a large number of people.
So where do you find these grey areas? A lot of them are advertised in Chinese only, so it will be hard to find anything before arriving in Hong Kong if you don't read Chinese. Instead, get yourself to Hong Kong first and you can easily find these places once you start talking to people. (Word of mouth goes a long way in Hong Kong)
If you're just staying for a short trip than your best bet are guesthouses in Kowloon, try the areas of Austin, Jordan and Mong Kok. The rates are cheap the rooms are clean. But you will still need to do your own due-diligence on checking if the place is up to standard.
Visa
Coming to HK is super easy for most nationalities. The HK government is famous at making everything fast and simple and so visa problems are not common. Most nationalities enjoy a certain amount of visa free days that allow them in and out of HK borders without doing any paperwork. You can check if you enjoy any visa free days here. (Go to part II)
If you come to HK and decide this is somewhere you'll like to come often, then there's something called the Travel Pass for business personnel. It's a 32 page travel document that allow users multiple entry in and out of HK for 3 years, with each stay valid for 2 months. The only criteria is you have to be travelling to HK for business purposes.
The criteria for applying is to have visited HK at least 3 times in the past 12 months before your application. And or, show your visits will be beneficial to HK. That's rather subjective, however before you think it's a lost cause. Let me tell you this.
The HK government is ACTIVELY trying to encourage HK to be a freelancer friendly city. They have multiple programs and subsidised projects to create co-working spaces, startup resources and financial assistance for entrepreneurs. The HK government is recognizing the narrow career choices millennial have and are actively trying to diversify the city's workforce. So they'll happily welcome foreign talent that can join the community here and show the locals how to do it, but you will need a contact that can act as your referee to apply.
It also wouldn't hurt if you have an LLC set up that shows you mean business with your money making activities as a digital nomad. You can set up an LLC in HK within 1 afternoon and for less than $100 usd. (I'll write a post on that some other day, but for now just DON'T go to a third party incorporation service provider. It's super easy to do yourself so why pay someone else to do it)
Transport
I've done my fair share of travelling over the years, from the West coast of America all the way to Japan and everything in between, and I can safely say Hong Kong has great transport. A lot of digital nomad destinations are in South East Asia, where the public transport system is poor or non-existent. The afternoon traffic is insane and the driving skills are questionable at times. Hong Kong doesn't have this problem, the transport is some of the world's most efficient and reliable. (HK's MTR company actually builds a lot of the railway and subway lines for other countries such as Denmark, Sweden, UK, China etc)
Public transport is how most locals travel from A to B. The main public transport method is the MTR. It's a massive railway company that oversees all the subway, train and light rail lines in Hong Kong. All lines are connected and you'll be able to reach all the main places in HK with it. The MTR comes every few minutes and it's the most reliable mode of transport in the city. You can easily download the MTR app and have the entire network under your fingertips.
There's also the bus, minibuses, trams, ferries and taxis. The minibus is a 16 – 19 seater van that will get you to all the places the MTR won't. They're separated into green and red, green minibuses are fixed routes that work according to a schedule like a bus, and the red ones are independently owned. The red ones are the ones that tend to do all the weird routes that the big companies don't want to do, like overnight routes.
Buses in HK tend to be double decker and we have a few operators that cover most of the residential areas. Ferries take you to all the residential islands or the famous Star Ferry that take you from Kowloon to HK island in under 15 mins.
Taxis are everywhere and are separated into 3 colours to represent the zones they can operate in. Red for the whole of mainland HK and HK island, Green for the New Territories and Blue for Lantau Island area. Taxis are incredibly cheap compared to most cities in the world, and you shouldn't have any problems taking a taxi on the regular if you're use to fares in other countries. However, locals still like to use public transport because it's a lot cheaper. (We complain a lot about the cost of transport, but it's still nothing compared to all the other big cities in the world)
WIFI
Hong Kong has great internet connection for the majority of places. Fiber Optics is available to most residential areas, but be careful of villages in New Territories. If you decided to stay at a village apartment in Hong Kong, then be sure to make sure the house has fibre optics or you'll be stuck with the phone line for internet services. It's enough for blogging and other usual activities, but it's not great for uploading and downloading large amounts of data. (I should know, because I live in a village apartment)
Broadband internet is extremely cheap in Hong Kong, but most service providers require a minimum of 18 months to sign a contract with them. Though, if you choose to live at a hostel, co-living complex and house share, then you can easily bypass this problem as WIFI will either be provided or be under your flatmate's name.
All co-working spaces in Hong Kong have high speed internet access. You're not going to find slow internet in Hong Kong and it's not going to go down suddenly in the middle of a upload. It's as reliable as internet gets.
Free WIFI isn't really a thing in Hong Kong, you'll get the odd place where free internet is available for 30minutes or the cafes that have free internet all day, but the internet speeds are subpar. Instead, if you need wifi on the go then you can rent a mobile wifi device or use your phone data.
Phone Data
This is by far the easiest part of being in Hong Kong. Pop into any 7eleven and get a prepaid SIM in 5 minutes, there's no need for a passport or registration. You'll get your phone up and running within 5 minutes of you popping the SIM card in. If your phone is locked then you can get it unlocked for a good price in Sham Shui Po; a working class district in Kowloon that's full of novel, nifty places to explore.
The best deals are on contract, but just like broadband services; most service providers will require a minimum of 18 months signup. Your best bet as a digital nomad just visiting town is a prepaid SIM at 7eleven. Be sure to check the rates of your SIM, since each one will be slightly different.
FOOD
Eating in Hong Kong is convenient and cheap. Not as cheap as Chiang Mai, but still very cheap compared to most large cities in the world. The secret to finding cheap eats is eating local. If you're ok with local foods such as soup noodles and rice dishes or snacks on the street than Hong Kong will feed you well. If however, you'll like more international choices, then HK isn't the best place when it comes to affordability.
A bowl of soup noodles with a drink at a local diner will cost you around $30-40 HKD, while having a simple pasta dish at a western style cafe would easily set you back $70+ HKD, without the drink. Alcohol is expensive at HK's famous bar areas, some of the most expensive you will find in Asia. One of the big reasons for this is because a lot of the people who go to these bars earn a fair bit of money. The ones that don't go to HK's party areas (LKF, Wan Chai and TST) go to more local places to drink and the prices drops dramatically. We're talking about $30+ hkd beers at a local place compared to a $100+ hkd beer at the famous nightlife areas.
Alternatively, the cheapest option is to cook. This might not be an option for you or even something you'll consider, but buying groceries at the local wet market will save you loads compared to buying the same ingredients in supermarkets. Vegetables are bought by the catty or sometimes you can buy half a catty. Meat is marked by the catty also, but you can usually ask the butcher to give you $x amount to keep things simple. Fish is also sold by weight. Dairy products are expensive in HK, because it's not part of most Chinese people's diet. Milk, cheese, yoghurt and the such will be insanely more expensive than what you may be use to paying for at home. A good tip is to actually buy these diary products in the posh expat supermarkets, because they have a wider selection and are cheaper than buying it in the local supermarkets.
The cheapest time to buy your groceries is around 5pm at the wet market, where all the sellers are trying to get rid of their goods. The prices can drop by half during this time.
Safety
Safety is something you have to take into account when you travel, and if you plan to stick around for months at a time then it becomes even more important. Hong Kong is extremely safe compared to world standards. Definitely safer than most large European cities, American cities and South East Asian cities. We don't see much random crime happening.
Pickpockets and muggings aren't very common, neither are murders or homicides. The most common types of news you'll find on TV and the newspapers are about road accidents, protests around the city and the increasing real estate prices. Though pickpocket cases start to rise in numbers near Chinese New Year. So be aware of your belongings when in crowded areas, if you're in town during the holiday.
Hong Kong is so safe that sometimes I think most Hong Kongers don't have much common sense when it comes to personal safety when they travel. I know countless Hong Kongers that don't seem to have the same know-how as other travellers from other places. And it's all because we're spoilt from living in a really safe city. (It's not uncommon to see young kids riding public transport on their own.)
The majority of crime is domestic in nature, so for a traveller who knows no one in the city. You're statistically safer than a local!
Female solo travellers won't need to worry when coming to Hong Kong. The city is well connected and our emergency services are some of the most professional in the world. Again, most crime is domestic in nature so you'll be fine as long as you keep to the basics of safety when travelling. This goes for anyone regardless of gender, but it's important to recognize the statistics of crime targeted towards women around the world. So just to give you some local knowledge:
Things not to do in Hong Kong as a woman:
Try to avoid going to clubs alone
The nightlife culture in Hong Kong is really safe, but there has been a change in recent years. Drug use is a lot more prevalent and this has also brought in the use of roofies or other date rape drugs. Bring a friend with you if you can. But if you're not going to the crazy raves or nightclubs, and just want a good time at a bar, then it's not a big worry you have to have at the back of your mind.
Another reason to not go alone is to avoid being surrounded on the dance floor by a group of guys sexually harassing you. This doesn't happen often, but it happens enough for me to write this down. I've never seen it happen unless the girl is really drunk, but I have unfortunately seen it happen enough times for me to include it in my guide.
Which by the way, sexual harassment in the form of groping is not common, but not entirely uncommon either. Be aware of who is walking your direction as the most common situation when it happens is when they are walking towards you. So have your wits about you.
Do not stay in any of the hostels located in Chung King Mansion (TST)
This needs to be said and advertised a lot more to tourists and especially female travellers. Chung King Mansion is located in Tsim Sha Tsui and it's a building full of vendors. Most vendors are South East Asian in nature, with lots of Indian food joints, foreign exchange tellers, mobile phone dealers etc etc. Guest houses are everywhere inside, many going by multiple names and most being advertised online for cheap prices. Most people who come to HK are shocked at the hotel prices and some get tempted to stay at one of these guest houses inside to save money.
Do yourself a favour and fork out the extra cash to sleep somewhere safe.
This has nothing to do with race or ethnicity or any one individual community in the city. It DOES have to do with crime. Chung King Mansion is notorious for being an absolute hub for organised criminal activity. Everything from your seemingly innocent fake designer goods, to human trafficking and sex slavery. The police like to say it's cleaned up Chung King Mansion in recent times, but every local knows it's still the same, just less obvious.
The entire building is this confusing maze of elevators, blocks and corridors. Unless you work at one of the stalls, you simply wouldn't know your left from right inside. Most backpackers go in to exchange their money since you can get black market rates inside, some go in to just experience the infamous Chung King Mansion and others are just completely ignorant and stay the night.
Don't be the ignorant type.
Medical
Like most places in the world, subsidised or free medical care is only available to permanent residence. However, you should have travel insurance that covers all the usual medical needs. Hong Kong public hospitals are well equipped and our doctors are well trained. Some hospitals are a little on the old side, but all the facilities work great.  You don't need to worry about subpar medical care or the lack of facilities and resources.
But the chances of you needing to go to a hospital are slim. You may however need to go see the doctor. Most locals will go to private health clinics to deal with small health issues such as the common cold. You'll need your passport with you to register at the clinic, as everyone needs to go down on record, but this is a very fast and simple procedure.
Seeing the doctor will cost you anywhere from $250 – $1000+ hkd, this all depends on the medication you need and is prescribed to you. You will still be charged a consultation fee if no medication is prescribed to you. If medication is prescribed, expect the doctor to give you 3 days worth. Any longer and you most likely have anti-biotics.
An alternative to going to a private health clinic for medicine is to go to one of the many pharmacies. Most of these pharmacies will sell generic versions of drugs and are a lot cheaper. You can go in and tell them you need something for a cough, your cold, runny nose etc and they'll give you exactly what you need. Or even better, you can go into one and ask for a generic version of a medication you usually use. They will normally sell it to you by the tablet.
Weather
We get 4 seasons that are according to the northern hemisphere. Summers average a 35+ Celsius, with the average humidity reaching in the 90%+ range. Needless to say, summers are not comfortable in Hong Kong because the whole city feels like a sauna. The hottest months start at June all the way to September. This is the time where we usually get typhoons and heavy rainfall.
The temperature starts to cool down to the warm 20's C by October and quickly drops in a matter of a week by the time it hits mid to late November. We're talking about temperatures of around 20 – 15 C. The coldest months are around Chinese New Year each year, so around January and February with single digital numbers. The humidity levels are low at around 60% during this time. You can call it our dry season since rainfall is a lot lower compared to Summer.
By March and April, it goes back up to 20+ C numbers and by the end of April we have full blown hot weather again until winter comes along.
Hot humid weather isn't a big problem since the city is fully air conditioned in most places, but our winter months are cold even though we don't experience the same low temperatures as other places. Central heating isn't a thing in HK and so most buildings aren't going to be any warmer than the outside temperature. You just don't get a draft…
Adventures in HK
Hong Kong isn't just a concrete jungle. We have a lot of greenery, nature parks, hiking trails, beaches and islands to explore. In fact, HK has a A LOT of nature for a world class city. Most of HK is actually made up of hilly areas and mountains, with most of the city urban areas being built on reclaimed land. You can be in the heart of Hong Kong's CBD area and go hiking within 15 minutes! You'll never know it while walking along the busy streets, but a hiking trail is never too far away.
There are 4 main hiking trails, The MacLehose trail, The Hong Kong trail, The Wilson trail and The Lantau trail, each broken into many sections. The MacLehose trail spans across Kowloon and New Territories. There are 10 sections in total, each with it's own map and entry points that provide public transport access. The whole trail can be completed in 3 days. The Hong Kong trail, spans across the mountains along HK island and has 8 sections in total. You could complete all sections in 2 days or 1 day if the conditions are good and you're up for a challenge.
The Wilson trail is a proper challenge for all hikers, it spans from the south side of HK island all the way to the northern areas of the New Territories. There are 10 sections in total. The Lantau trail is, as the name suggested, located on Lantau island, there are a total of 12 sections that will take you in a circular route around the south side of the island.
Some of the more popular and famous sections within these trails are:
Section 2 of The MacLehose trail to see the amazing coastal beaches in Sai Kung and the volcanic rock formed from lava. The rocks form 6 sided hexagonal columns. It's a real sight to to see.
Section 5 of The MacLehose trail to see the wonderful Lion Rock that Hong Kong locals love to use as a representation of their culture of hard work. "Lion Rock Spirit"
Kam Shan Country Park along The MacLehose trail to see all the monkeys. I mean a LOT of monkeys.
Section 1 of The Hong Kong trail for a breathtaking panoramic view of HK's skyline. You don't have to go to the popular tourist trap; the peak to see the beautiful lights of HK.
Section 8 of The Hong Kong trail to get yourself to Big Wave Bay. It's a beautiful beach away from the city and doesn't get too crowded.
Section 3 of The Lantau trail to come head to head with the "Sky reaching ladder", it's an impressive and daunting 70 degree slope with a ladder carved out of it. This is the toughest section of the trail and many like to celebrate after overcoming these legendary steps.
I could go on, there really are a lot of treasures within HK's nature trails.
Along these trails and inside these nature parks are countless campsites, barbecue sites and hidden secluded beaches. But if hiking isn't your thing and you still don't want to be stuck with the neon lights and futuristic shopping malls, then give the following ago.
Head to New Territories, where Hong Kong aboriginals are originally from. Hakka Chinese people lived in HK for hundreds of years before the government was ever established and the hordes of Chinese people from the North moved down. Head into traditional villages to see the old relics, architecture and experience the dying culture of the Hakka. There are a few heritage trails that point out exactly where to go to see what. You can find details on Hong Kong's tourism board website.
You'll probably not be able to get much beyond the surface since none of these traditions are commercialised into a tourist gimmick. These are real communities that keep their culture alive within their community, so it is a little hard to experience the vibrant aspects of Hakka culture if you're not Hakka. But if you visit places at the right time, then you'll be in luck to see traditional kung fu practiced at ancestral halls, large parties with traditional food being served and the traditional unicorn dance. Yes. That's right. not Lion dance. Unicorn dance.
There's so much more I could add to this, but I think I've covered the bare minimum so you're not completely clueless if you come over. If you DO come to HK for a visit, then feel free to shoot me a message and if I'm in town I'll show you around.
Did you like this post? Do you know someone coming to HK soon or would like to? Why not share this post with them so they don't need to go looking in the depth of the inter-web for answers.
Other resources to checkout: